Laundry Lifehacks Singapore: Common Stains and How to Deal?
It is Friday night, you invited a bunch of friends to your house. After a sumptuous meal, you brought out the expensive wine you have reserved for such occasions. Hip music is playing and people are laughing. BAM! Your favourite wine is now on your favourite Italian-made cream-colour sofa. You bite your lips and try to look friendly and calm, while your friends apologize profusely. While recalling every lifehack you have ever read about cleaning, you can't seem to decide what to do next. And you just decide that you will let your sober self deal with it tomorrow. BAM! Now is tomorrow, what do you do?
Sounds like a familiar scenario to you? Especially for millennials in Singapore, we just got the key to our newly T.O.P-ed BTO flats. We spent lots of effort in decorating our new house, and a lot of money to buy the piece of furniture we love. However, we are lost how to maintain our beloved home, as our parents have always taken care of the maintenance.
Do no worry, we are here to help. Here are some tips on getting rid of common stains, using items you can find at home or FairPrice in Singapore.
#1 "Vanish" IS HERE TO HELP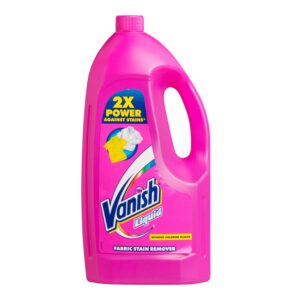 This is so far the most effective commercial solution to stains. There are many lifehacks on the Internet that tells you use Baking Soda. But com'on, is it more convenient that we buy baking soda for stain or keep a bottle of Vanish in laundry room?
Try pour the solution to the stained fabric, you will see the solution quickly foams in the stained area and removing most parts of the stain. For the tougher ones, you need to soak the fabric with the solution for about 10 minutes. Try not to soak for too long as it might cause damage to the material
#2 Ease of remove = Severity of Stain X Age of the Stain. REMEMBER THAT!
Waiting till the next day to clean up the wine stains on your sofa cover is big No-No! The faster you deal with it, the easier you can get it out. Even if you are rushing for time, just try to pretreat the area by putting it in cold soap water. Dry stain is so much more difficult than moist stain to clean!
#3 Dishwashing detergent is oil stains' worse enemy
Many do not realize that many common stains like lipsticks and the yellowish stain on shirt collars are oil-based stains. (Yes! Your neck produces oil also!) While normal laundry detergent will not be able to get rid of them, dishwashing detergent can. It is by far the most effective way of cleaning out the oil stains.
#4 Ask for professional help!
Some tough stains are just not possible to be cleaned by ourselves. Items made with special material requires special care. They are usually expensive so we do not want to further damage the material. Curtains, for instance, are sometimes made of fire-retardant material which can't be washed with water. If you accidentally stained your curtains, you need to let professionals to help you.
Our clothes, as well, need to be dry cleaned from time to time to restore and preserve the colour. Especially white clothes such as wedding gown, evening dress and formal shirt. If you do accidentally dyed white clothes, you need to get it dry cleaned as soon as possible.
Check out Eazihome Laundry curtain cleaning & other dry cleaning price
#5 Stain & Mold no more!
Enough of the laundry stains, here is a bonus point for stains on other surface. Do you have white marble kitchen top or floor in your house? Then you will know what I am talking about. They just don't stay white, do they? If you leave a wet NTUC bag on the kitchen top, you will soon find NTUC logo permanently inked on your table top (unless you bought it from NTUC, you do not want that to happen!!)
There is one single most effective way of dealing with it – Magiclean Stain & Mold. It's simple a bottle of miracle. Just spray on the affected area and let it set for about 15 – 30 minutes. Let water run through it and ta-da!! You don't even have to wipe it, it's that easy and simple!