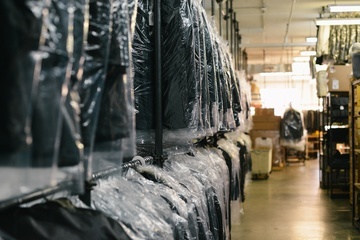 What is Dry Cleaning?
Unlike how we wash our clothes at home, dry cleaning uses a liquid solvent perchlorethylene (Perc). The entire process is done without water, hence the name "dry" cleaning.  Here is what happens to your clothes during the dry cleaning process:
Clothes are put into a dryer-washer machine that is pretty similar to one at our home;
A constant stream of clean solvent is being pumped in and dirty solvent is being filtered out;
Clothes are spanned rapidly to drain the solvent
Warm air is circulated in the machine to vaporize the remaining solvent left on the clothes
Our Dry Cleaning Process
We have a well-designed process to carefully handle your delicate items. This is how we do it:
Inspection & Tagging. Upon collection of your items, our agent will look at the clothes condition to identify tears, discoloration, tough stains that need special care. We then attach tags with the special requirements on it to different items
Pre-treatment. Any items with tough stains and will go through pre-treatment. We want to ensure stains are removed completely after dry cleaning process
Dry Cleaning Cycle. We will separate your delicate and special items from general items, hence ensure that small tears will not be bigger and colour condition is preserved
Post Inspection. We will pick out items with stains that are not removed. We will put it through multiple dry cleaning cycles to make sure tough stains are completely removed.
Finishing Touch. Your items will be pressed and packaged with protective plastic film. Items that require hanging will also be hung in a laundry bag.
Why Choose Us?
We handle delicate items according to best practices. When we wash at home, we do not always follow the instructions on label exactly. As professionals, we pay attention to details and make sure items are cleaned in a way they are supposed to clean
Preserve the fabric and colour of your clothes, especially the more expensive designer shirt, dress, night gowns.
Remove tough stains and odor. Normal wash and dry process may not be able to remove tough stains. We use solvent that is most definitely will remove unwanted smell and stains.
We handle large items such as curtains, carpets and sofa covers. Can't imagine washing curtains at home? We can't either!
Common items absolutely need to dry clean than washing
Usually, our customers let us help them with delicate, expensive, bulky, or difficult to dry items. This is a list of items that you would want to dry clean rather than DIY at home.
Designer shirt/dress, evening gowns and wedding gowns. They are very expensive and we do our best to prolong the life span of it
Curtains and carpets. They are too large for home wash. They are also difficult to dry. We collect from you and deliver them back to you when they are thoroughly cleaned.
Winter coats/ fur coats / leather coats. Expensive, bulky and difficult to dry.
Prices
Our Outlets